It's been a really long time since I last posted here in this blog. When you're having the time of your life, it's hard sometimes to just take a step back and appreciate all the things that has happened. I'd like to take this time to update you with what I've been very busy about for the past few months as well as give you a glimpse of the highlights from this year. We're about to end the year 2013 in a couple of weeks.
While I've not been so active in this blog lately, I am however, am very active in my Facebook Profile. The other day I saw a feature in my facebook profile titled "See Your 2013 Year in Review – Look back at your 20 biggest moments from the past year." This gave me an idea about creating a post featuring the highlights of my 2013 to share with you.  Unfortunately, 20 for me is too much so I just listed down what I could find. Here you go, the biggest moments of 2013 according to my Facebook page in pictures.
January – Year kick-off with a retreat featuring Bo Sanchez and Francis Kong in a 3-day 2 night stay in Tagaytay.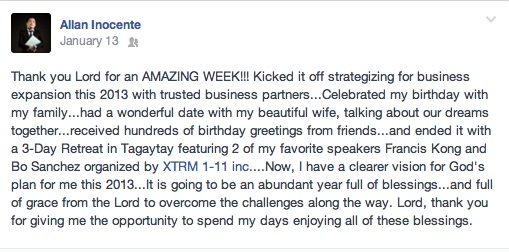 March – first time to attend an international convention for the whole asia pacific and met business owners from Australia, Hong Kong, Korea, Singapore, and more. Proud to be delagates from the Philippines!
We were able to receive an award during the convention. It was very exciting and an eye-opener experience for me. I got to see how the Chinese treat business – no drama, just do it, hardwork mentality.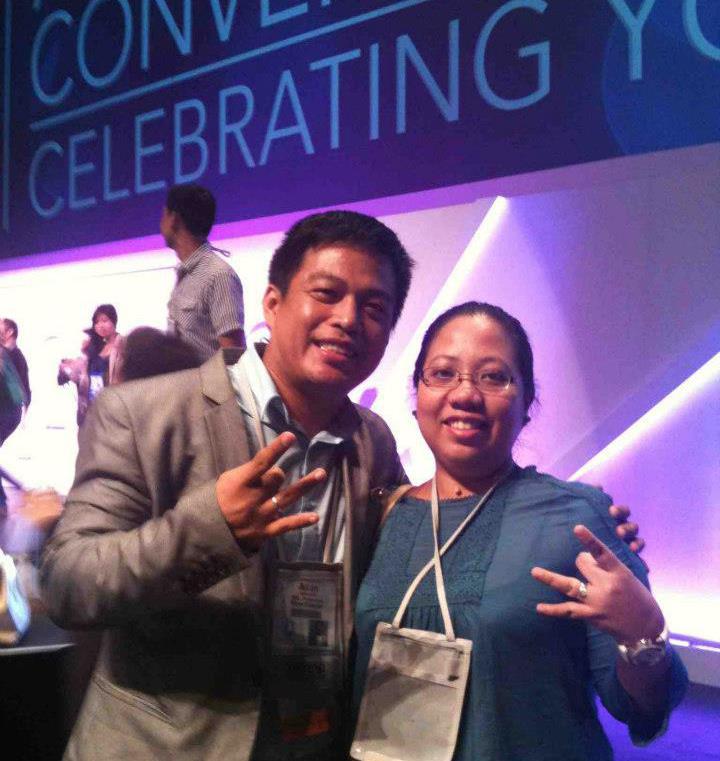 May – Received our first award in Araneta Coliseum in front of 10,000+ people.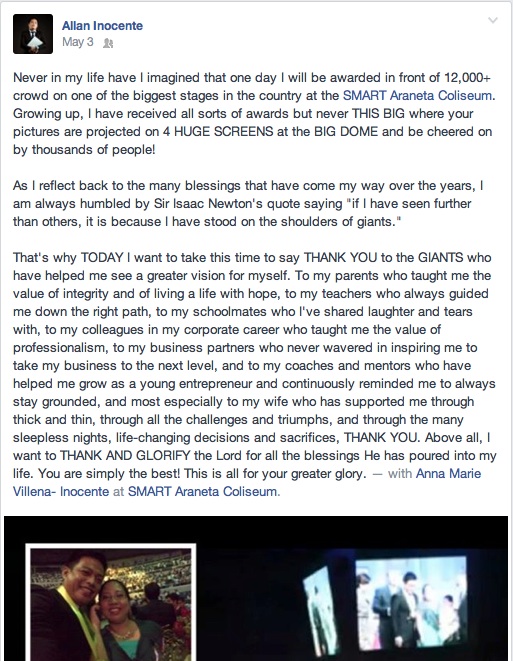 Shared my story to a group of hundreds of young, energetic Entepreneurs in Mega Trade Hall.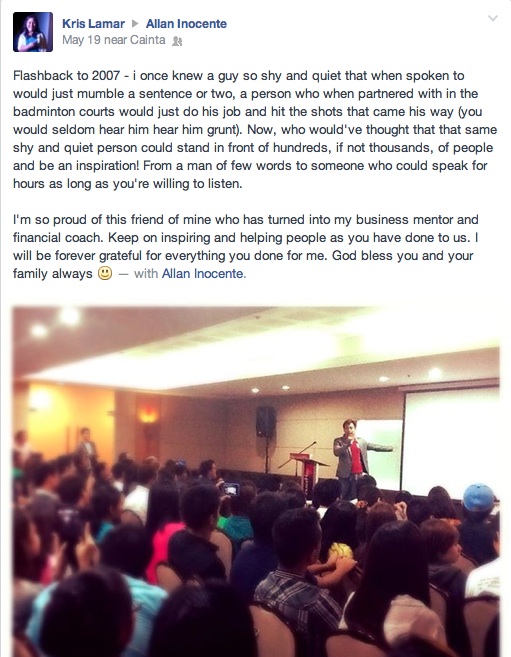 June – Welcomed the birth of my second son, Ervin.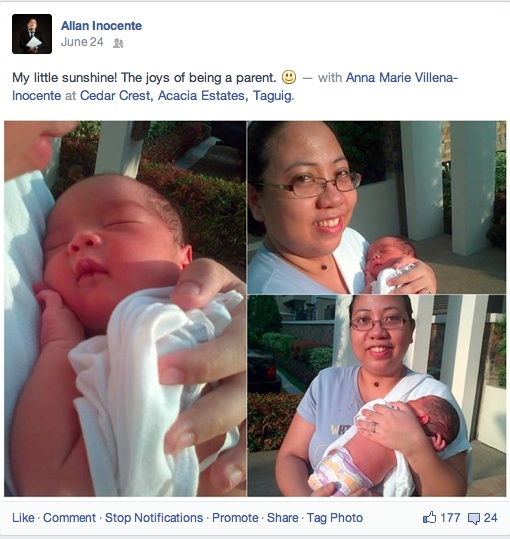 August – My wife and I were supposed to receive an award in the U.S. but we decided to postpone our trip for next year instead so we could spend more time with our young baby boy Ervin.  Good thing the U.S. visa granted to us is valid for 10 years. We still have a few years left. 🙂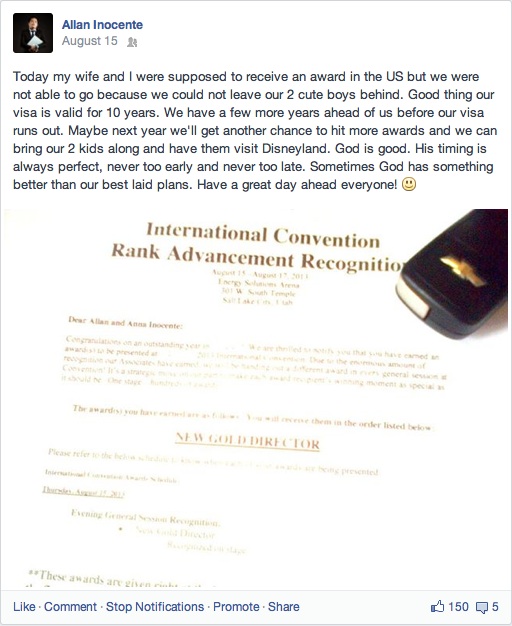 September – Received numerous invitations to speak about financial literacy from different schools around the country.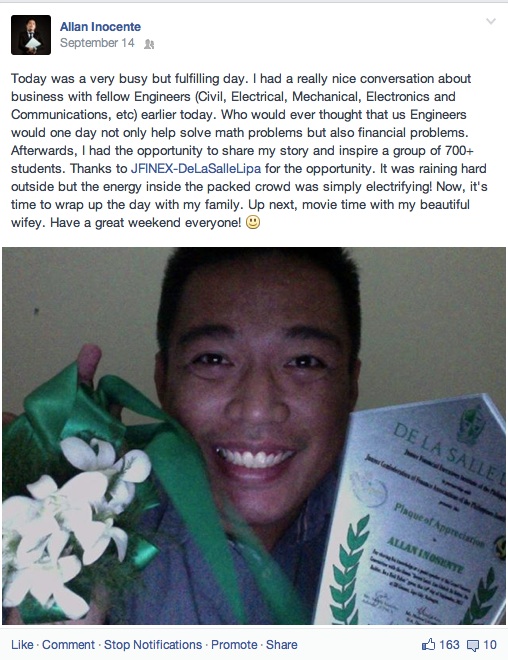 October – I shared the BIGGEST REASON why I am working hard in my business.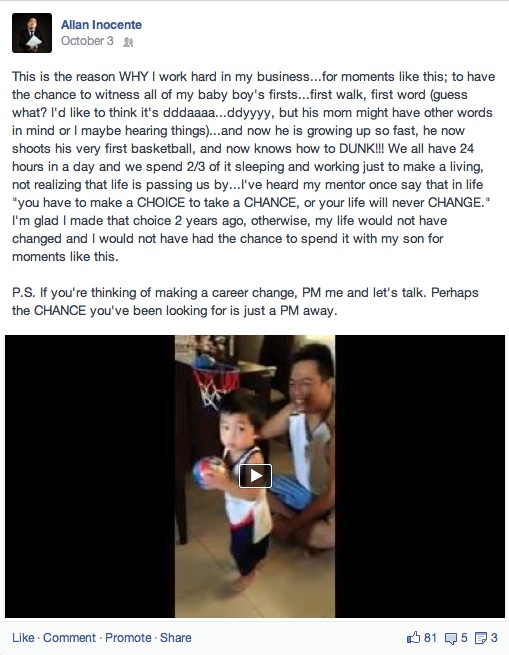 Received another award, this time in Philippine Sports Arena (ULTRA).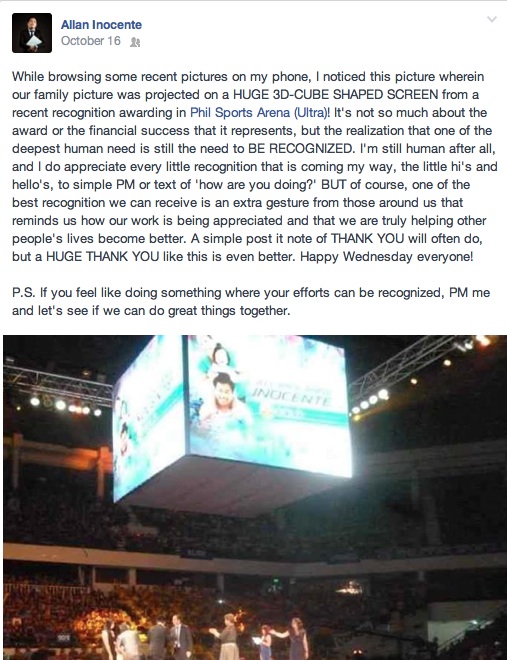 Received an invitation to share my story to fellow OFW's in Singapore.  Here I was enjoying a free accomodation in Marina Bay Sands, special thanks to my Singapore business partners and teammates/mentors from XTRM 1-11. 🙂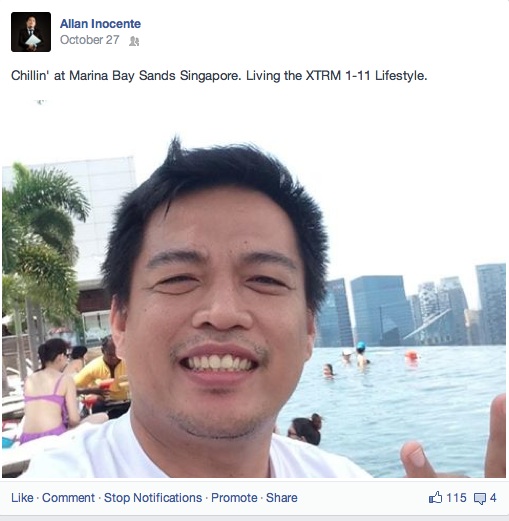 October – My friends and business partners received special awards for being Top awardees from the whole Philippines.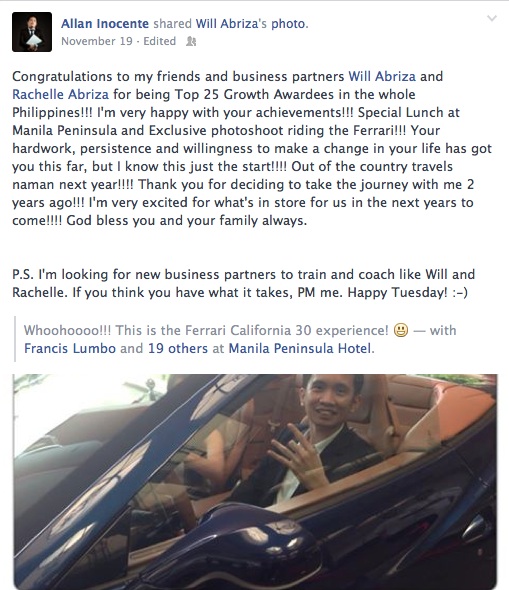 One of the skills that I was able to improve while doing business is being able to confront your fears and do it anyway.  This post from my wife says it all. 🙂
December – celebration lunch with a few of my business partners.   Doing business has allowed me to meet fantastic people who I would never have that chance to meet otherwise.
The year is not yet done, but as you can see 2013 has been a fantastic year!!! So many new experiences, so many people whose lives were changed for the better.  If this is 2013, I can't wait for 2014 for it will really be HUGE!!! As of now, I've already been scheduled for 2 out of the country trips for next year!!!! I am super excited!!!
I wish you a very Merry Christmas and a Happy New Year!!! May the blessings of the Lord shower upon you as they have been into my life for this year!!! God bless you!!!
P.S. If you are tired of having the same Christmas every year, desperately waiting for something INSPIRING to happen into your life, may be this is the time to make a RESOLUTION THAT WOULD CHANGE YOUR LIFE FOREVER. Contact me  and we'll go from there.
Powered by Qumana