Last week, I was invited by UP Junior Finance Association to share my personal journey on finance. It was raining heavily and the traffic jam along Katipunan avenue was really tight.  Fortunately, I managed to arrive safely and find the venue after a little bit of guiding from the organizers.
Having graduated from UP Diliman more than a decade ago, it feels surreal being back walking along the corridors of the classrooms and seeing the excitement of a school buzzling with intellectual activity.  It feels great to be back, if only for a moment.  It brings back a lot of happy memories from a long time ago.
The funny thing about these seminars is that I never imagined that this blog would pave the way for this amazing experiences. For some reason, different schools like to invite me to share about investments and finances with them for their school or organization projects, even though I don't have a background in Finance. In fact, I graduated BS Computer Engineering in UP Diliman.
But I couldn't let go of the chance to share my story to UP students.  I really enjoy speaking with students who are always excited and hungry for new learnings.  Besides, I always have great expectations from the intellectual capacity of students from my alma mater and I welcome the challenge of helping shape the financial minds of future leaders in the country. This year, I have been invited to talk in UP Los Banos, Polytechnic University of the Philippines (for the 2nd time), and just last week, in UP Diliman (for the 2nd time as well).
Here's a copy of the teaser they sent out to announce the event. Needless to say, I was really impressed.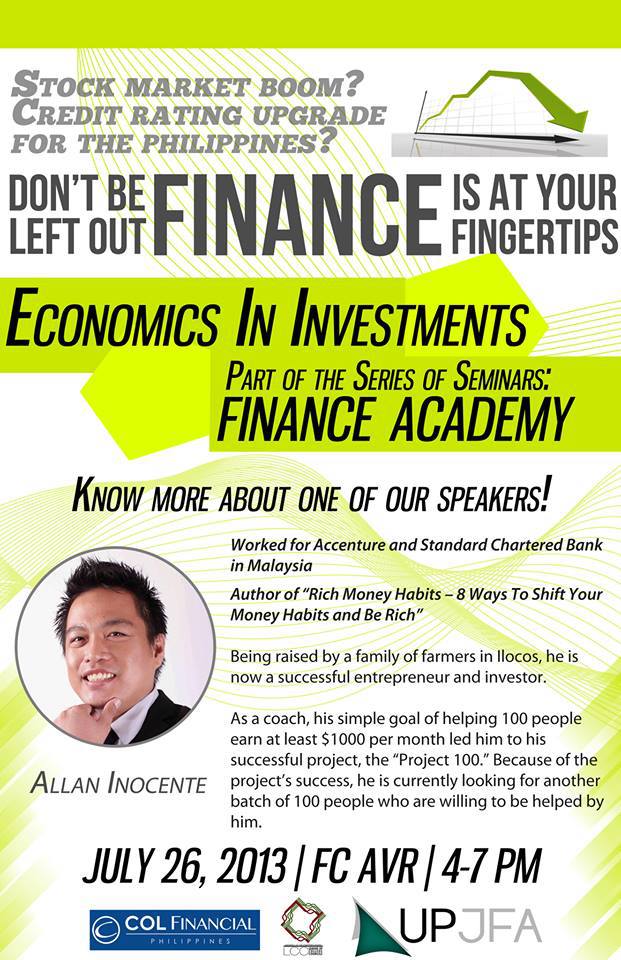 The event allowed me the opportunity to share a bit about my life during my college days in UP Diliman.  Here I am strumming my guitar, wearing shorts and sandals.  Who would ever thought that this young, simple and unassuming guy would someday wear a suit and elevate the financial lives of many through this blog, his speaking engagements and through the people he gets to work with in his businesses.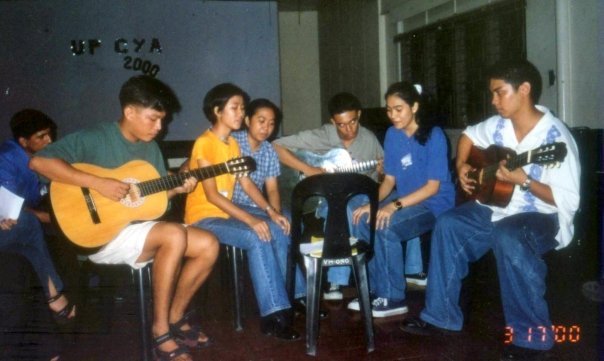 Today, I'd like share a few lessons I learned while reflecting back on what changed over the years on how I view money in my life and how it got me to where I am today.
To be able to change, first you must be willing to change.
The change did not happen overnight. When I was in College, I was content with what I had.  Who wouldn't be? I was on a DOST scholarship, my tuition was practically free and I was receiving monthly stipend as well.  On top of that, I was working as student assistant for a project of the university and was doing what I loved and getting paid for it. It was a bliss.
The change started when I realized that College days can sometimes prevent you from seeing the realities of the world that is around us.  After graduation, I suddenly realized that getting a job even when you're a UP graduate is not as easy as it seems.  There were a few anxious moments when I applied for a job and was waiting for a call from the company to hire me.  I did not want to receive allowance from my parents anymore.  Why should they give me allowance? I already graduated.  I had to learn to feed myself and take care of my own financial needs.  I had better learn it fast because I only had myself and a small savings to rely on.  I took on part-time gigs which provided a little bit of extra money for my needs. Then after a few months of waiting, I got the call I wanted. I was offered an entry-level position for a multinational company for a salary of P16,000. I was ecstatic. It helped bring back the confidence in me that was slowly fading while questioning myself whether I really had what it takes to succeed in the real world.
After graduation, I planned to take up a master's degree and work on a research project at the same time.  Working in the private sector was not my first priority.  I liked wearing jeans or shorts and sandals.  It felt really cool. I imagined myself like someone who worked in Silicon Valley.  I dreamed of being one of those techie geniuses who hardly had any time to worry about their grooming.
But an opportunity to work in the private sector opened up for me and was too much to pass up, so I grabbed it right away. Besides, P16,000 per month salary was quite a big money for someone like me who was fresh out of College back then.  Or so I thought.
The first thing I had to change was how I dressed up.  I had to learn how to tie a neck tie.  I had to get comfortable wearing long sleeves all day long.  I had to look like a corporate slave guy who was neat and tidy.  I had to let go of my old self who was more comfortable wearing shorts and sandals.  If you ask me, was it easy? At first, of course it felt really awkward. But soon I got the hang of it.  Besides, I was willing to change anyway.  Change is only hard if you are not willing to go through all the awkwardness, to get out of your comfort zone and cherish the surprises of a new experience will bring. Change makes life more fun and exciting.
Learning The Technical Details of an Investment is Easy, It's the Emotional Roller Coaster that is Hard
I grew up believing that anything in life can be learned.  As long as you put in the effort, be willing to go through the hardships, anything is possible. I first learned that lesson while trying to ride a bike.  My father taught me by holding on to my seat while I was trying to pedal my way in balancing the bike. Soon I was pedaling smoothly and didn't notice that my father had already let go of me.  I learned then that it's the emotional fear that's causing much of my hesitation of learning how to ride a bike. It's the fear of the unknown, of what might happen if I stumbled or crashed.  What will happen if I got hurt? All the fears went away when I just did it.  There'y no trying in life.  You either do it, or you don't.
I've had my fair share of investment opportunities, from real-estate to stocks and bonds, and to businesses but all the details on how to do it came easily compared to the emotional torture that went along with it.  I just had to go through it once, be willing to ask from the right people, learn and apply it fast by putting in the effort and action immediately.
Through all those opportunities, I realized that what held me up the most, what caused the procrastination and the delay was not the technical know how, it's the fear running through my head whether I was conscious of it or not.  Over the years, the only way I know how to combat fear is to just do it.  Sometimes, the thing you fear the most will give you the most fulfillment.  Most of us lead a boring and uneventful lives.  For almost a decade my life was a constant dread of waking up in the morning, going to work, letting the time pass by without any significant thing done, going back home, watch TV or entertain myself and go to sleep.  The next day, I had to do the same thing again.  It is not the inspired life that I wish to lead.  That's why I changed course.  That's why I was willing to let go of my fear of the unknown to release the small voice inside of me screaming to explore, learn and embark on an adventure. It's been almost 2 years since I last held a job and the journey has never been better.
Challenges are Blessing in Disguise
I won't be a hypocrite and say it was easy because it was not.  It was not an easy decision to make, especially that a month before my last day of work, I learned my wife and I were expecting our first baby.  Even when our business is doing well and we are enjoying the flexibility of time spending it with our 2 kids, going to the malls on a weekday when most people are at work, the challenges are still out there.  The more I grow in my business career, the more I appreciate the challenges that life has to offer and the opportunity to overcome them.  I learned that anything in life worth pursuing is paved with challenges.  The greater the challenge, the sweeter the success. That's why it is all going to be worth it.
Remember, only through pain will you appreciate success.  Only through sacrifice can you taste victory.  Only through challenges will your true greatness be revealed.
Accept the challenge and create massive successs!
P.S. If you feel you deserve more than what you are currently getting and looking for a change in your life, let's connect in Facebook and see if we can work something together.  Add me up as friend, PM me and we'll take it from there.
Powered by Qumana