Sometimes, we travel to places only to find ourselves circling back home. Here's a picture of me and my wife Anna while strolling along a busy street in Singapore. It reads, "Manila St". We went all the way to Singapore to see "Manila St" (same name as the capital city of the Philippines) 🙂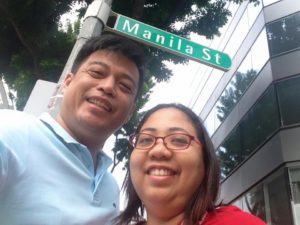 It's been a few weeks since I got back but I haven't had the time to digest it all until now. While I was reviewing my notes from our 8-day trip in Singapore, I got reminded of my goal when I was starting this journey of entrepreneurship. I wanted to learn HOW TO BUILD A TEAM. There were several attempts at building a business early in my professional career but all of them did not take off because I was a one-man show. I was handling everything. I didn't know how to delegate. I didn't know how to LEAD. That's why I'm very excited to be sharing with you 5 ways to be a better leader I picked up from John Addison during my Singapore trip. Here they are:
Decide who you are. What drives you? What makes you get up in the morning? People are attracted to people who know who they are.
Build on your strengths. Build on what you are good at. Find what you are great at without trying and try very hard in your strengths. If you don't know your strengths, a great book I can recommend is Strengths Finder 2.0. There's an online assessment that you will have to go through to find your core strengths as a leader.
Focus on what you can control.  Focus on your sphere of influence: your attitude (i.e. how you think) and your activity (i.e. what you do.) As my mentor would always say, "you can't control the weather outside, but you can control the weather within."
Develop a peaceful core. A peaceful mind generates power. Leaders are the CALMERs, UNITERs, PEACE keepers. You got to be the EYE of the STORM. Be the person people can count on.
Be a lighthouse. Lighthouses are needed when it's dark. They are built on a rock where they can be counted on. A leader is needed when it is challenging. You as a leader need to transfer confidence to unconfident people. They've got to build on your confidence. Leader has to be strong. A leader has to stand out in front and be different.
Getting reminded by these 5 leadership principles allowed me to look back on my journey of becoming a better leader. As with all things that are important, knowing these things is not enough. You have to practice it in your daily decision making as a leader. You will only know you have courage if you encounter challenges that you felt you cannot overcome because of fear. The true test of leadership comes when you decide to embrace the fact that there's no other way for you to go but to step up and be a better leader.
P.S.  I'd like to give you a special gift today for being a loyal subscriber of my blog. I wrote my first ebook Rich Money Habits a few years back with Foreword from Bo Sanchez himself saying 'this ebook contains the most essential tools you need to start your journey towards becoming truly rich.' The sale from the ebook reached $605.66.  Now, I am giving the ebook away for free so that MORE people can benefit from it. Besides, my business is earning enough to sustain my family's needs and wants. If you want a FREE copy of that ebook, you can click here. Thank you for being part of my journey. I wish you well.