I first attended a Francis Kong seminar way back when I was still in the corporate world. He is a prolific speaker who captures the hearts and minds of attendees. I remembered laughing at his jokes non-stop. More than that, I was impressed by his intellect about different topics. I bought his books and devoured them.
Mr. Francis Kong is a sought-after speaker in the topic of LEADERSHIP. His many best-selling books on this topic is unmatched by any other Filipino author or speaker. Last year, I was also able to attend his signature LEVEL UP LEADERSHIP SERIES Workshop. The last part of this 3-part series is priced at around P25,000. It covers all the materials and food for the 2-day workshop. It's a more intimate kind of setup where you get to ask your questions directly to Mr Francis Kong and have a more personalized leadership learning experience with him.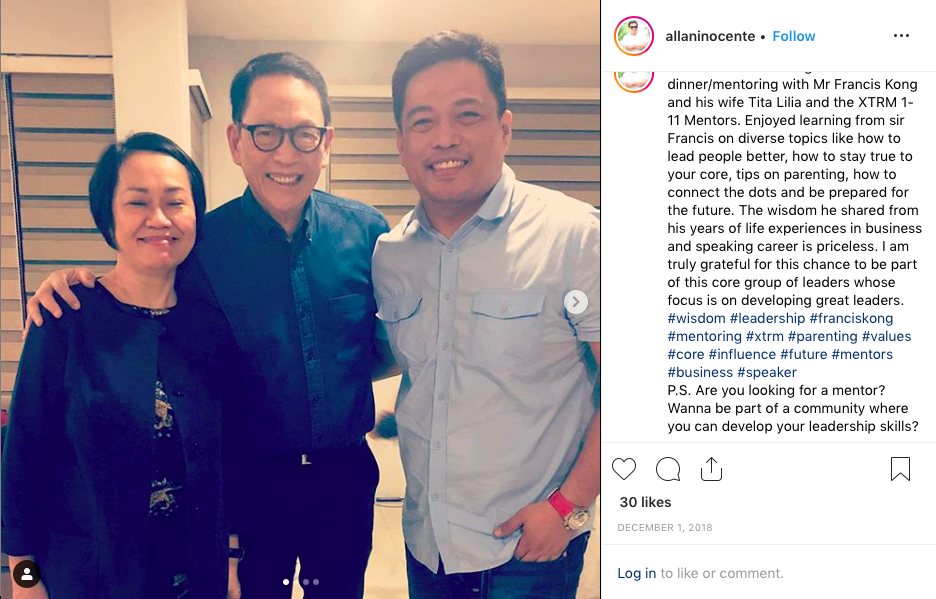 Being part of this exclusive group of mentors in XTRM One Eleven Inc, has also allowed me to get a special dinner priviledge with Mr Francis Kong himself and his wife. It was an amazing experience to say the least.
Over the last 8 years of being part of the group, we have had a lot of exclusive trainings and workshops with different local and international speakers like Anthony Pangilinan, Bo Sanchez, Dr. Denis Waitley, and many more. Unfortunately, most of our events are exclusive to our group and we could not invite others to attend….UNTIL NOW.
For the first time ever, you will get a chance to attend an event of Mr. Francis Kong this coming July 23, August 6 and August 12. This rare 3-part series titled BUSINESS ROADMAP SERIES will include topics such as Maximizing Productivity, Entrepreneurial Mindset and Developing Presentation Skills. The event is from 7pm to 9pm so that most of the professionals who have a 9-to-5pm daytime job will be able to attend.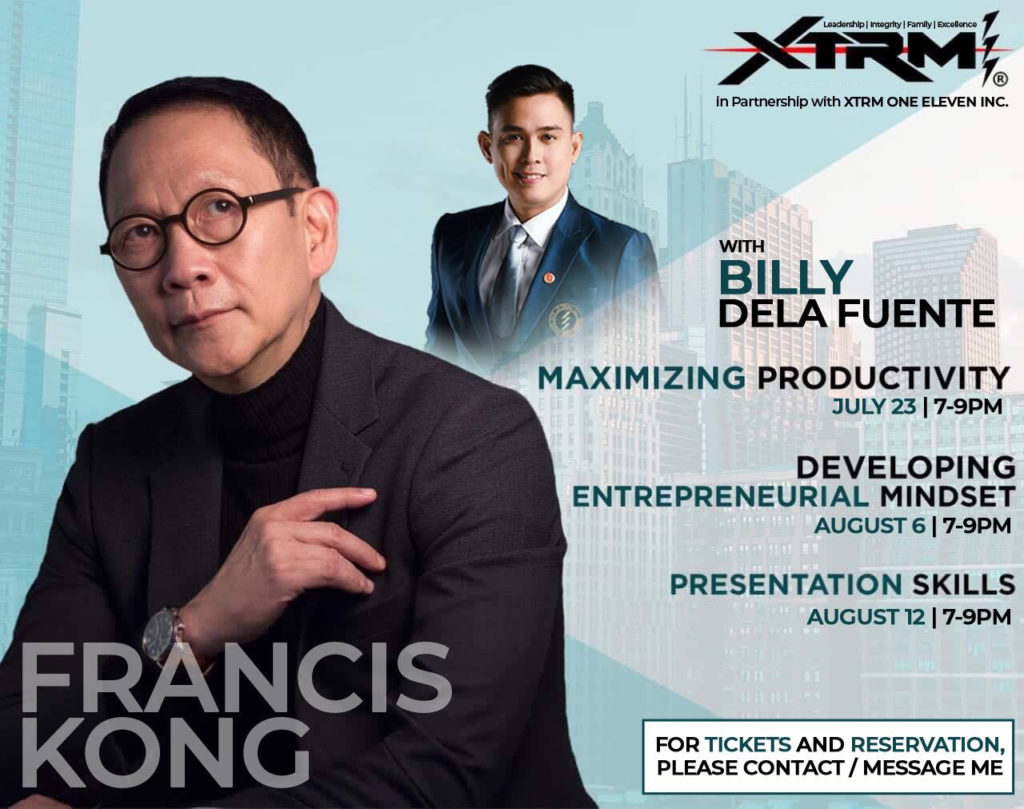 This event is especially tailored for professionals who are seeking to build additional income or upgrade their skills for promotion. If you want to LEVEL UP YOUR INCOME POTENTIAL by developing additional business skills, this is your oppportunity. The good news is that you will not need to invest P25,000 for this event, not even P2,500…the event is only P1,500 for the whole 3 days (July 23, August 6 and August 12). Should you choose to attend only 1 or 2 of the 3 days, we can also accomodate you. You only need to invest on the days/topics you are going to attend. Ticket price is only P500/day or topic.
If you are interested to attend this event, you can email me at allan@allaninocente.com or contact me at +63-917-8034015 so I can send you the payment instructions. SPECIAL DISCOUNT is available for groups of 10 and above. So bring your friends along! Limited slots only. Hurry, get your tickets now!