Today's article is very special because I will be featuring one of my mentors for the last 7 years in my journey as an entrepreneur. His name is Mr. Billy De La Fuente. One of the things I admire about him is his passion to teach and train people, regardless of their current background. There was this one time where we had a bonding session with my co-mentors. We just decided to play bowling together. I am not very good with bowling but one thing I noticed was, Mentor Billy could not contain himself. I saw him helping out, giving tips to the new bowlers like me. When you are passionate about what you do, it just comes out naturally for you. You can't help it. It's already in your blood – a teacher, a mentor, a friend who cares.
Anyway, to get a glimpse of who he is, here's an excerpt from his website at http://www.billydelafuente.com/. Read on and enjoy.
Billy Dela Fuente (or Mentor Billy as his team XTRM 1-11 fondly calls him) is an entrepreneur, motivational speaker, XTRM 1-11 Founder and CEO and father rolled into one – or to sum it up, superman in a suit, jeans and Jordans. He was born and raised in Metro Manila and is currently residing in their dream abode in Pasig City with his wife Pin, and their three sons Godfrey, Enzo and Joaquin. He graduated Chemical Engineering from the University of Santo Tomas but did not push through with the career, instead he ventured into various businesses while also modeling.

Billy modeled for both Globe Telecom and Coca Cola before. His eureka moment happened when he reached the age of 24, and was already planning to settle down with his then girlfriend Pin. He realized that the amount he was earning from his Franchising and Loading businesses were not enough to support a sustainable future he has envisioned. Because of that, he frantically searched for solutions for this dilemma. Until one day, he was able to read Rich Dad Poor Dad by Robert Kiyosaki, and Multiple Streams of Income by Robert Allen. He was also able to watch the documentary The Secret. Those books and video changed his life.

The things he learned became the foundation of Billy's business fundamentals – the value of Time and Residual Income. Time being our biggest asset and it being limited instilled in him the importance of acting swiftly. On the other hand, Residual Income is having your money work for you. These concepts plus the unrivaled hardwork he has put in, propelled him to become one of the top Directors of USANA Health Sciences, a leading global health and wellness company, today. It has also allowed him to achieve his goals and live the life he has imagined with his family.

Nowadays, Billy's business and know how have helped touch thousands of lives not only in the Philippines but around the world. The organization that he has co-founded, XTRM 1-11, has been a beacon of transformation in the field of entrepreneurship as well as professionalism. Billy being the head of the pack, continues to train and develop people for them to get their personal wealth and health goals. Expanding his network in the process, his business enabled him the opportunity to live the lifestyle of their dreams. And he's not finished yet. Because he wants you to live the dreams you have imagined, too.

Billy just needs two things from you: an open mind, and the mentality of helping others to succeed. Because, an open mind makes you become ahead of others, and helping others get what they want will eventually make you get what you want. Pretty neat, right?
Looking back over the years, I got a rare chance to witness first-hand how his transformation has been, from a reluctant leader to a strong leader who leads thousands of associates around the world. He leads by example. He is naturally curious. But one thing I noticed about him is his people skills and his ability to read people. Sometimes, he jokes around and says he is not that fluent in English but he has improved a lot and has been invited as motivational speaker into countries like the U.S., Mexico, Canada and many many more.
Today, I'd like you to get a glimpse of the "Taglish" version of him. He speaks from the heart. He cries when he can't contain his emotions. But a leader who leads from the heart, sometimes, speaks with his eyes. For the eyes is the window into the soul.
Here's an excerpt from one of his Facebook Post when he shared his story of transformation.
Alam nyo ba na ang path para maging successful tayo ay hindi diretso?
Yan ang narealize ko looking back at my journey. Kadalasan ang daming detours sa daan. Yun tipong akala mo tama na yung dinadaanan mo, naligaw ka na pala. Or worse, yung tumbok pala nun, di yun ang gusto mo na mapuntahan.
Pero iba talaga si God. His plans are always on point, maybe not in the timeframe that we expected, but in the timeframe that fits. Swak. Sakto.
Naalala ko, nung elem pa lang nagbebenta na ko ng NBA cards (relate ka?), na napalitan ng pagbenta ng magic (the gathering) cards nung High School. At syempre nung college, kaliwa't kanan ang part time ko: red ribbon crew, sa catering, modelling. Ambitious kasi ako. And I really want to make a name for myself para sa family ko at sa future.

Looking back, all the sacrifices have been worth it. All the detours that I have experienced along the way have been instrumental to my transformation. Ang focus dapat pala wala sa kung ano ka sa ngayon, kundi kung sa ano ang pwede ka maging in the future.
Remember, we are all potentials waiting to be unleashed. Kaya laban lang!
Nowadays, mentor Billy is growing his influence across different channels. You can reach him @billydelafuente on Youtube, Instagram, Facebook, Youtube, Linkedin, Snapchat and through his website at http://www.billydelafuente.com/ to get some tips in life, travel, inspiring stories and more. He also gets invited regularly to different youth organizations to share his story and give some tips on how to become a young leader.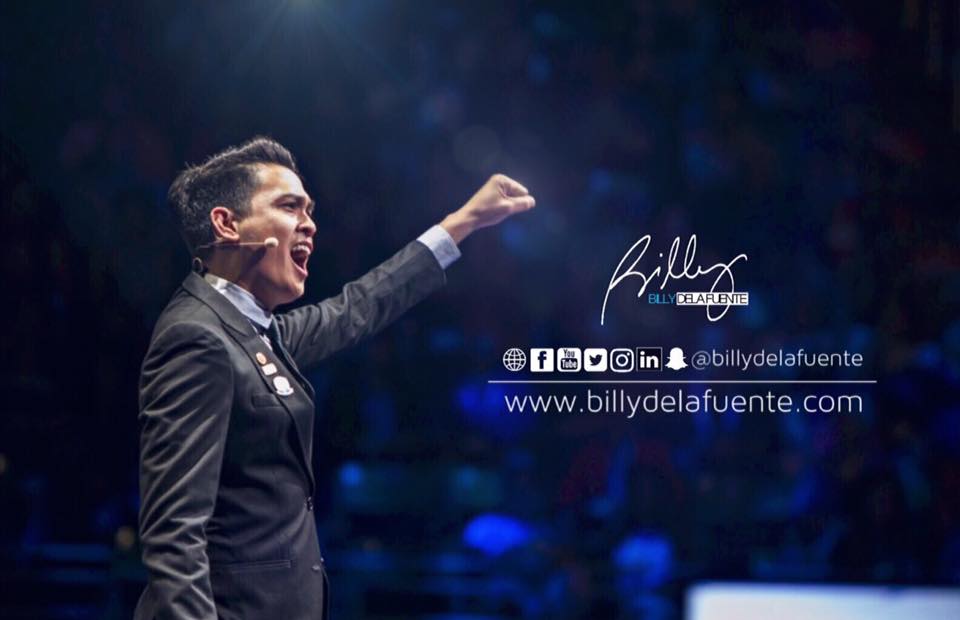 I have had a chance to be invited in his lovely home many times. I can still remember, how he taught me regarding financial management for 3 straight hours. One on one. Not many successful people care enough to invest on a personal level like that. I learned how to grow my financial portfolio by focusing on controlling my expenses and knowing where to invest to grow my income even more. I realized some of my past programming as an employee has been hindering me from fulfilling my full potential. Slowly but surely, I am growing my entrepreneurial mindset and skills. Thanks to mentor Billy.
As with any story of transformation, the main ingredient is having a mentor who can guide you. Yes, mentoring is very important. It fast tracks your success.
Today, much of my work goes into mentoring individuals who are hungry to learn about doing business, just like what mentor Billy has done for me over the years. It is time to pass on and extend the same help to those people who are hungry to learn from a mentor.
Perhaps, you are just like me before, tired of reading so many books and attending so many seminars but with no results to show for it. You may have fears and you are looking for a community of entrepreneurs who will be there to support you, not only in training you the skills but in enabling you to manage the ups and downs of emotions you go through as an entrepreneur. Now, you are ready to take action. Now, you are seriously considering something with your situation. There is hope! As they say, when the student is ready, the teacher will appear.
If you are at the stage in your life, I have good news for you. This month, I am in the middle of building a new team of 10 people as part of my newest project. If you are interested to be part of it, simply reply to this email or message me through my website at http://www.allaninocente.com/work-with-allan/ for more details. Let's connect. This may be the start of a long and successful partnership. Cheers!