A few days ago, I had a chance to catch up with one of my former housemates abroad and now one of my successful business partners. After only 1 year and 5 months doing the business part-time while working abroad for one of the largest financial services company in the world as IT consultant, he and his growing family were able to come home for good to do their international business while living in the Philippines.
My friend is a very humble guy, loves to play the guitar with a band, and a good father and provider to his young family.  His name is Francis Lumbo. In a short span of time, they have been able to build their business to great lengths, receiving top growth awards in Singapore and winning an all-expense paid trip to a 5-night Asian Cruise trip to Shanghai China, Jeju Island Korea, and Nagasaki and Fokouka Japan. More than that, they have been able to help countless others achieve success as well.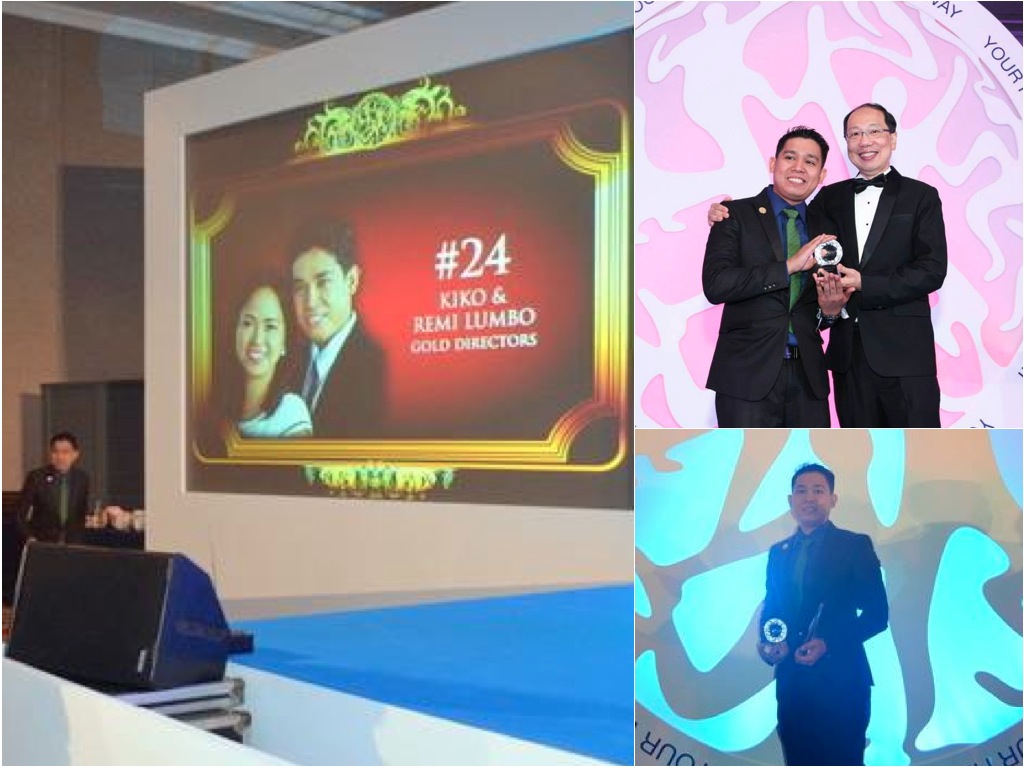 I have great news for you! Here's your chance to get a glimpse on how it is to build an international business part-time while still being employed. One of the striking things he mentioned to me before was that while doing the business, he had achieved the best preformance review he got from his former company. He actually tried to ask for a raise but sadly the company didn't give him what he wanted. Much to his disappointment, he focused all his energy in applying the same work ethic on his business and the results were nothing but extraordinary. His life changed dramatically for the better. 
Here's a short interview of Francis Lumbo, an inspiring story of a former OFW's entrepreneurial journey in his own words. Read on and enjoy!
Questions #1. Background: Please share with me a little bit about yourselves. What is your current profession?

Answer: We came from the same University and College in the Philippines (PUP Sta. Mesa). We are working abroad for 6 years now, in Malaysia and Singapore. My wife and I are doing the business for 1 year and 5 months and since November 2013, we are now fulltime in the business. I am a former Software Consultant, and my wife is a Civil Engineer, Quantity Surveyor. We have two kids, one is a 4 year old kid name Paulo Remcis and the other one is still in her mother's womb, 8 months. We would name her Isabelle Anne.



Question #2. How did you find out about the business?

Answer: Let's just say I invited myself to the business. Here is how it all happened. It was 2012 and I was working as a Software Consultant in Singapore. You know how most people spent their idle times by browsing through Facebook. I was checking the news feed of Facebook and I often saw the posts of Allan Inocente, a former housemate in Malaysia and now also one of the successful Entrepreneurs in the Philippines. I was amazed and intrigued of what is he doing, because it seems he already retired from job and was just touring around the Philippines doing seminars and talks. But what strikes me the most was despite that, he still have time with his family. And so I message him, "bro, musta…Ano ba ang raket mo jan. Kung ano man yan, sama ako" In English "bro, how are you…What are you into. Whatever it is, l want in". And so via Skype he presented the business and so we came to know it. 
Because I have so many questions on doubts back then, the presentation lasted for 3 hours and 7 minutes. The business is too good to be true for me, is time and financial freedom really possible at the age of 35…Nonetheless, I weigh my options, and asked my wife if we could try. She really is not very supportive at first. Even I still has doubts back then. But two days later we joined. The rest was history.

Question #
3. Why did you join the business?

Answer: We joined for that extra income we needed to start building our future, to add for our savings, and so we could start our own business. What we really wanted is a restaurant slash bar and have enough money so we could retire early and be with our family in the Philippines. 
Also my wife and I are working for 9 years already. (3 years in Philippines and 6 years in MY and SG but still we do not have our own house and lot. Then came a friend who introduces us to this famous book called Rich Dad Poor Dad. From that book we found out what was wrong, and what we are supposed to do. Then came this wonderful opportunity where we could start a business with low capital but could give a very very good income. One thing that also entices us to start is that this business could give us residual and passive income in the near future. Sound like this is what we need and so we grab it.



Question #4. What were some of the challenges you faced? How did you overcome them? Please share some examples.

There are three challenges that we encounter. Time, our personal fear, and discouragement from our own friends and family.
First challenge was time. Remi is working for 10 hours a day every week and half day on Saturdays on her job and I am working 12 hours and oncall 24 by 7 including weekends. Sad to say, we have little time for our kid back then. But we need to manage time wisely. And that is what we did. We cut our useless series and telenovela time, our Facebook time, our Iphone games time, no more over sleeping just to squeeze in time to do business. 1 year and 5 mos after, we have all the time we need to play and be with our kid.
Next challenge was our own personal fear of failure and rejection. Both of us are not the types of person who could right away start a conversation, the type who would approach people who are not close to us. We found out that in this business, you must first develop yourself in order to grow. And so we did a lot of seminars, trainings, and own study to be able to overcome change our mindset and remove all the fears and doubts. It is still a wok in progress up to this day.
Last challenge was we could not convince our friends and even our own family to invest in our business. But we keep going. We have this never say die attitude. We really prayed to God that if this business is really for us, we will find the strength and courage to continue. It took a while before we could say that we are really earning. The good thing about this business is you have business partners who encourage you stay there and hang on. And true enough, our perseverance pays off. Now most of our family and friends are with us in the business and they are also earning and working their way to financial and time freedom.
I hope you were inspired by Francis' story as it did to me. As you can see, his journey is just beginning, but much of his success is attributed to him being open to new ideas, having the courage to take a leap of faith even when his own doubts and fears were creeping in, and him being willing to learn and be coached and mentored along the way. He was not afraid to fail in the business. He was more afraid of not being able to provide the life that his family dreams of. He had an amazing work ethic but he also knew that without the right vehicle, his hard work can only go so far. He knew that starting your own business and having control of how you run it can be your ticket to a better life.
Most people are aware that having a job is no longer as secure as before. There's downsizing, there's recession, there's you getting old and being replaced by a younger and more willing person who accepts a lesser salary, and there's your boss who just doesn't like you, and all other kinds of excuses they want to throw at you. YOU can accept that fate in defeat, or silently fight back by TAKING BACK CONTROL of your own life and fate. There's light at the end of the tunnel, only if you are willing to take a chance and have the faith that God has a better plan for your life. Opportunities are all around us, most people are not trained to see them even when they are in front of their own eyes. I pray that you find yours and be the next featured success story. God bless you and see you at the top!
P.S. Inspired by Francis Lumbo's success story, you can add him on Facebook @ http://www.facebook.com/francis.lumbo.
P.P.S. Last time I sent an email invitation to this blog to join me in building my DREAM TEAM, so many people have sent in their responses.  To give you an idea, here's page 1 of 4 screen shots of the emails I had to reply to. I had to remove some of the confidential details for privacy reasons. To all those who emailed me or added me in Facebook and sent in their messages, THANK YOU so much for taking the time to let me know your thoughts while meeting some of you personally. While I would want to meet all of you to just say thanks, my schedule simply cannot permit it as I am also working closely with a lot of other people I am currently mentoring on a deeper and more extensive coaching engagements. With that said, if you still want to be part of my project, you can send me an email to setup an appointment. If you don't receive a reply from me within 24-48 hours, please do resend your email as it might have been lost along the way. Thank you for your continued support and I hope this blog inspires you to create your own success story. Cheers!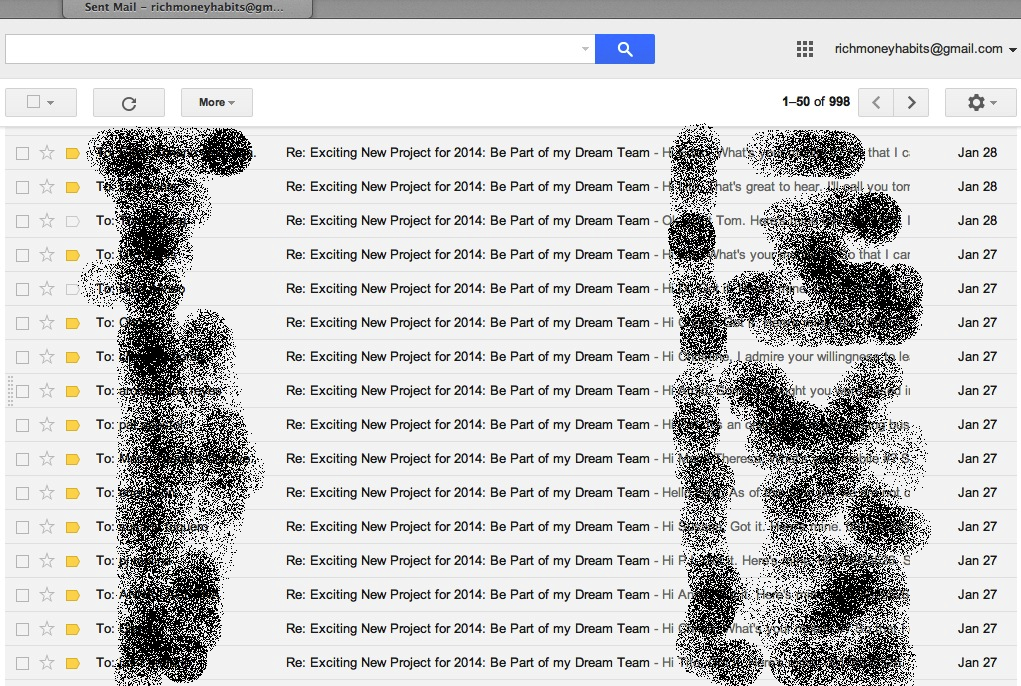 Powered by Qumana