Today I'd like to let you in on a secret.  Do you want to feel blessed? Beyond your expectations?  To your wildest dreams? Simple. You just need to learn to be 'grateful'.
What? That's it?! You say.  This is one of life's biggest paradox.  That what you think about most, will come back to you a thousand-fold.  The more you think about your problems, the more they become bigger. The more you listen and entertain yourself with mindless gossip and tragic events of other people's lives, the more you get depressed and think that life is miserable.
This is the reason why I think, listening to "news" on TV is the single biggest mistake you can ever make during your day. Why? Simple. You get all the negative things from all over the world, the strangest and the most tragic events throughout the day, seamlessly collected and served to you 100%, in its purest, unadulterated form.  If you let yourself watch this garbage with your 100% attention, it's like having a bunch of worms forced down your throat while your hands are tied to a chair inside a torture chamber.
Gruesome isn't it? It's like a bad horror-movie.  Let's stop the movie from playing.  Press the stop button on the remote now, and decide to be more conscious of the thoughts that you feed your mind.
Now that I've got that out of the way, let's practice being "grateful" for a change. Let's start with reminiscing the wonderful blessings of the past year.
Until now, I'm still asking myself what I must have done right to deserve so much blessings in this world.  Truly, living a blessed life is such a wonderful gift.
At the start of 2011, I mentioned 3 goals in my mind that I wanted to accomplish.  One is financial in nature, another is for my health, and last is for personal growth.  You can read more about them here.
The journey in achieving my financial goal has gone beyond my wildest imagination.  For one, I not only achieved my earnings goal handily but even multiplied it 5x, and achieved it faster than I can imagine possible.   This has allowed me to be able to quit my job as IT consultant for the last 9 years and focus on helping others achieve the same.
In the last quarter of the year, I shared with you my new goal that is to help 100 other people do what I did.  I wanted it to happen before 2011 ends, but I over-estimated the reality that before you can help other people, they first need to be willing to be helped.  It's a two-way street, and unfortunately, I have to live with the fact that I can only control the one on my end.
Nevertheless, the results have been really inspiring because to date, there are already 35 others who are already earning $40 – $400 a month and on their way to their financial goals.  They are earning US dollars in the Philippines without having to go abroad and take the risk of being abused or maltreated away from home.  They are like you and me, ordinary people with different backgrounds, IT professionals, accountants, engineers, veterinarians, linguist specialists, and more. What they have though, is the deep thirst for learning to improve their lives, the relentless positive attitude and solid character, and the bias for action to match their desire.
These are people who have given me their trust and allowed me to mentor them on a personal basis, in the hope that I bring them closer to their financial goals.  These are people who have raised their hands, and are willing to do whatever it takes to realize their dreams.  In return, they get personal access to me, my time, resources and all the knowledge and experience I've been through all the years.  If you want to be blessed just like them, you can email me here.  Only 65 slots left.
On my fitness goal, I achieved my weight goal in the middle of the year but gone back astray, and gained back the pounds.  That's what you get when you have too much time having fun. 🙂 What excites me though is that I now have more time in my hands and the means to do it faster and healthier next year.  Watch out for that! 🙂
More importantly, for the first time in my life, I've had the healthiest year so far.  For the first time in years, I've not had the usual one or 2 weeks of colds and cough that I normally go through almost every other month.  Now, whenever I get sick, which I had only a couple of times the whole year, it only takes me a day or two of rest to bring back my old healthy self.
The side effect of being healthy though is that you tend to stretch your limits going for days with limited sleep.  Unfortunately, when that happens for far too long, your body can only go so far, it still needs to rest and recharge.
The last of my goals is to go out to places I've never been to before.  One thing I learned after travelling to the US, Malaysia and Singapore is you learn a lot about life when you travel and explore.  It's in those moments that I realize there's a greater world out there most people are not able to see and experience.  Yes, you get excited hearing stories and adventures of other people.  But that pales in comparison to the feeling you get when YOU experience it for yourself.  Those moments are priceless gifts you will treasure for a lifetime.
I've had little success in this goal of mine this year, not because I don't want to travel.  I certainly do.  But a bigger blessing has come my way, that I feel it is more important to focus on at the moment.  I am not one to complain, because I am enjoying every moment of excitement and waiting.  Perhaps next year, the travels will even be more blessed.
Now for the other blessings that came my way that I sincerely prayed but didn't expect to become reality so fast…here are just but a few of them.
…for the gift of time, and of not needing to rush off to work every morning
…for the gift of life, and to our greatest blessing this year, our first baby is on the way
…for the gift of home, a new place of love for the people closest to my heart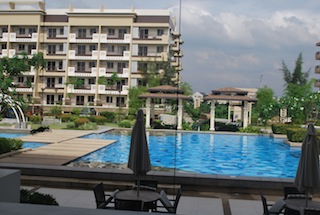 The past year has been very very good to me and my family.  I feel really blessed beyond my wildest imagination.  If you would have told me a year ago, that it would be THIS GREAT, I would have chuckled and told you you were joking.
Sometimes, in life you just need a little faith.  All I did was dream and trust God that what He has prepared for me is even better than what I was asking for.  I wish all that for you and much much more.  Be grateful to the blessings around you. Have faith and be prepared to receive the avalanche of blessings running through your door!  Cheers to a blessed 2011!
Powered by Qumana