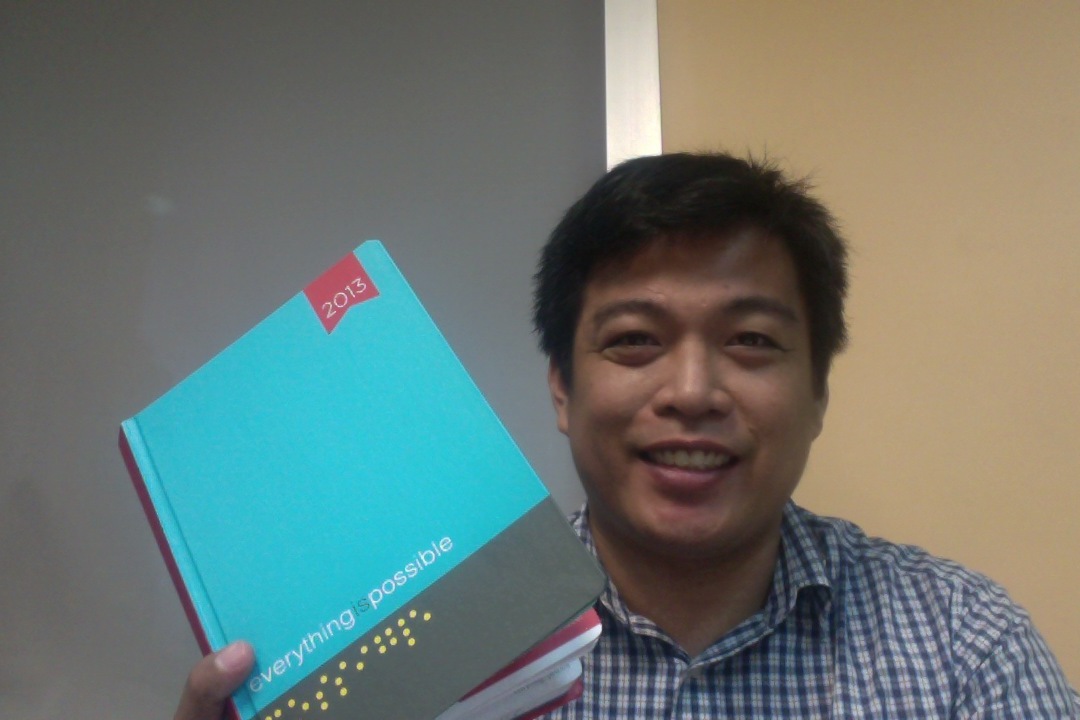 Today, I am celebrating my birthday.  One thing about getting a year older, you tend to reflect a little bit more about your own goals.  So today, I'd like to share with you some of my personal, business, health and spiritual goals for 2013.  In sharing my goals, I hope to inspire you to write yours as well.
Personal Goal: Write 3 new books. 
I haven't had much time to spend in writing the past year.  I missed writing to you.  Sharing my stories.  Sharing the experiences I've been through.  These books will be more about the experiences I've gone through the past few years venturing into different things.  I will share to you some intimate details, the failures along the way, and some of the exciting things that have happened to me as a result of the decisions I made.
Why 3 books?  Because I think I have so much to share that one book will not be enough.  Besides, my books will not be as long as some of the textbooks you read in College anyway.  Because then, you will not read mine anymore.  I like it short, inspiring and based from real-world experiences.  I like to write books that I'd love to read for myself. If you have already bought and read my book at www.richmoneyhabits.com, you know what I am talking about.
Business Goal: Triple business income from 2012.
I am enjoying my time being a young entrepreneur.  Year 2012 has been great for my business.  I've learned a lot last year from my every day conversations with my mentors, customers and business partners. I am very fortunate to be given the chance to change the lives of many people…Of course, business income was great as well.  This year, I want my business to have explosive growth, that is to triple the income from last year.  I am very confident it will become a reality because of the solid team behind me in XTRM 1-11.
Last year, project 100 was a success.  There were 104 people who earned $40/week – $1,000/week income as part of the project.  Unfortunately, the project is now closed.  The good news is that I will be launching a new and improved version 2.0 of the project soon. I'm really excited to share it with you but I'm still finalizing a few details.  Watch out for my announcements about the new project in the coming weeks.
One thing I realized about business is that it is like any other thing in this world, it can be learned. As long as you put in the effort, the time, and be willing to let go of your pride, something is bound to happen and you will learn whatever you need to learn so your business will grow.  Granted, 9 out of 10 businesses fail in their first 5 years.  Out of those left, 9 out of 10 will eventually fail within 10 years.  But why look at those which failed?  Look at the one business that succeeded! Ask the owner how he made it happen so you will know how to build a successful business as well.   
The good thing about business is that once you learn the skills, no one can take it away from you.  Even if that business collapses and you lose everything, as long as you know how to build a successful business, you can do it all over again.  That's one of the reasons why I ventured into business myself.  No amount of reading books or attending seminars will replace the learning you get by actually being there in the field, starting and growing your own business.  I am still a newbie and have a lot to learn…but in my few years doing business, I feel I have gained more knowledge than all the books I've read over the years combined simply because I now have a little bit more real-world experience.
Health Goal: Lose weight to reduce waistline by 4 inches. 
Don't ask what my waistline is now because I will not share it with you.  🙂  The reality is that when you have a lot of time to enjoy eating, you tend to eat…a lot. Of course, it's not an excuse to over eat.  I feel I will be even more productive and have more energy when I have a lot less weight to carry around with me. 🙂
My new fitness goal of course is to make my waistline a little bit more fitting, down by 4 inches to be exact.  The paradox of time is that people think having a lot of time will allow them to do the things they want to do.  I don't think so.  The reality is that if someone gives you more time right now, you will not know what to do with it, worst case you will think of other excuse like sleeping or watching tv for you to not do the things you "think" you want to do like exercising or doing something more productive.  Trust me.  I've been there.  I thought resigning from my job will give me more time to do the stuffs I "thought" I wanted to do.  It will work for a few weeks, but after that, something is bound to come up to take the time that was freed up. There's laziness.  There's procrastination.  There's hundreds of reasons to convince yourself that putting it off for later is the best thing to do.
Spiritual Goal: Attend the Feast every Sunday.
This year I want to be more consistent in attending services of my spiritual community.  Bo Sanchez' Light of Jesus community is holding Feasts at different days of the week all over the world.  Normally, I attend the PICC Feast during Sundays.  If you are there, may be we will bump into each other once in a while.  Anyway, sometimes something will come up…or sometimes because of laziness I am not able to go to the Feast.  I find attending the Feast very nurturing for my soul.  I appreciate the talks by Bo Sanchez and his other fellow Feast Builders…I learn a thing or two about dealing with different kinds of people, how to develop your emotional maturity, etc.  More importantly, I get to spend some time just being in the presence of the Lord with my family, enjoying the experience of a spiritual community.  This year, I want it to be more consistent and perhaps finally be able to complete the sessions of a Caring Group….and maybe get a chance to be more actively involved in the community as well. 🙂
That's it for now.  I am very excited to be going after my goals for this year 2013.  I feel the abundance of blessings this year is going to be overflowing.
How about you?  What are your goals for this year?
Powered by Qumana